Important Announcement
We have opened our Main Street Showroom . We are looking forward to serving your jewelry needs and repairs . 
We Are Working On Getting More Inventory On Our Website. More Gorgeous Jewelry Coming Soon!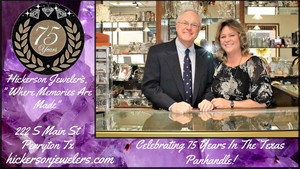 75 Years in business!!!

Celebrating 75 Years In The Texas Panhandle!
we appreciate all your love and support 💕🥰

Welcome to Hickerson Jewelers
Seventy-Five years, we have been providing the Finest Jewelry and personal services to the Texas Panhandle, We are the place where memories are made.
We welcome you to choose from our vast selection of fine jewelry, at your own convince.We offer our tradition, of the finest quality jewelry at the most competitive price.
We welcome you to shop online or we always enjoy taking the time to personally give your that special Hickerson Time, when you visit our show room in our Perryton location.
Come visit us soon, Always on the corner at Third and Main, in Perryton, TX.
Our Premium Jewelry Providers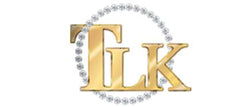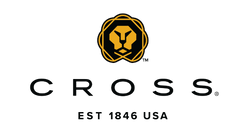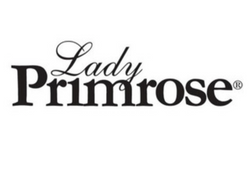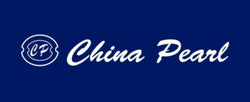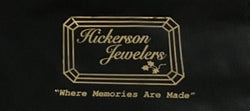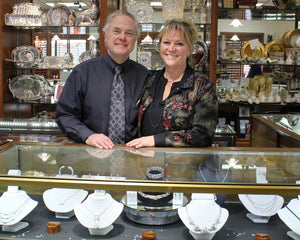 About Us
Hickerson Jewelers was established in 1947 in Memphis TX by James (J.C.) Hickerson. Hickerson Jewelers is proud to be a 2nd generation Jewelry Store serving the Texas Panhandle for over 70 years. Elbre (Frosty) Hickerson is a GIA Certified jeweler who began his legacy in Spearman TX. He is proud to be in his current store of Perryton TX for over 20 Years now. Come by and see us at 222 S Main in Perryton TX.
5 Star Reviews
Frosty has designed and created several pieces of jewelry for me. It seems to me that no matter what issue I had with something, whether I purchased from him or elsewhere, Frosty always seems to have a solution to the issue. In today's fast paced world it is nice to have a one on one relationship with a business where you are most likely to spend the most money.

Phyllis Johnson-Laird
Frosty has always been great when I've taken my jewelry in to be checked for loose stones etc. or even just changing a battery in a watch. He takes great pride in his work. I've seen a lot of the jewelry he has made for different people & it is beautiful.

Cyndi Daniel Bollinger
I wanted a ring from a drawing I had made. I could not find a similar one anywhere. I showed Elbre, the store designer and owner the drawing. He was so easy to work with and had created the exact ring I had envisioned!

Krista Lee Bramhall
Frosty is great to do business with. He has taken great care in making sure my Beautiful Wife's Wedding set doesn't have any loose or missing stones and if found, he takes care of the problem as quickly as possible.. He has provided prompt and courteous service every time I have purchased items or just stopped in to say Hello. Super Good People and carry a nice selection of jewelry. I recommend Hckerson Jewlers to any and all!! Prices aren't too high either! Support our Local Businesses and go see Frosty and crew. Cb4istmas is right around the crner.

Shayne Sanders
Love the amazing service! They always help me find just what I need.

Kristina Keeth
More Jewelry and Amazing offers
Sign up today Because we have a surprise for all our amazing customers this March To celebrate our 20 Year Anniversary! Get Promotions, new products and sales. Directly to your inbox.